Coordinating Multiple Galvo Scanners and XYZ Stages using Infinite Field of View (IFOV)
Multiple Galvo Scanners & IFOV in Action
Polaris Motion has extended its infinite field of view (IFOV) technology to handle multiple Galvo scanners and stages.
Multiple Galvo scanners can now share common stage axes or they can use independent stages. This offers our customers great flexibility when designing their machines to handle mass manufacturing requirements for items such as cell phone glass.
In one configuration a customer uses two stages with four Galvo scanners on a single mechanical frame. There are two Galvo scanners per stage. When the first stage/Galvo set is finished part processing, a robotic material handler removes the finished parts. Simultaneously, the second stage/Galvo set receives blank pieces for processing. All the while fast laser material processing is accomplished with great speed and accuracy. Furthermore, by using the available IFOV technology large, detailed parts are easily made.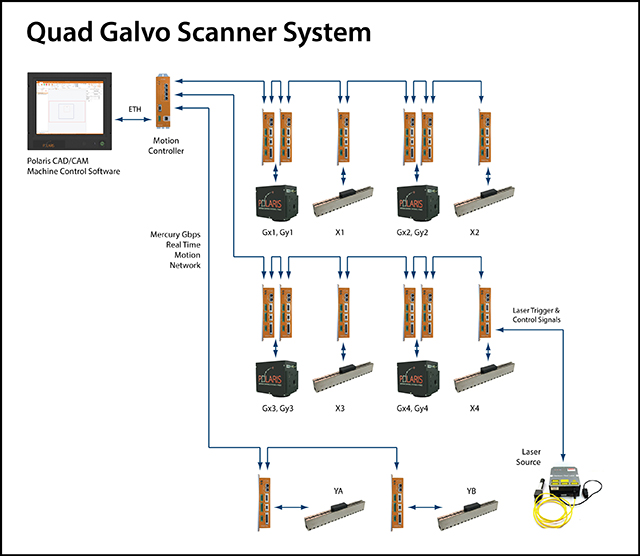 Setup is Quick
Not only does Polaris Motion's multi-scanner solution provide increased performance, it is also easy to use. This is especially apparent during setup. Multi-scanner IFOV setup is quick and it is is done only once during machine commissioning. After the machine has been tuned and commissioned, any part can be made with no additional parameter adjustments. A great amount of time is saved. Simply import the part file, and the programmed intelligence of our system does the rest.
Some notable features in our new multi-scanner solution include:
Coordination of multiple Galvo scanners and stages using a single controller
Customized F-theta lens calibration for each Galvo scanner
Individual offset, rotation and scaling adjustments for each Galvo scanner
On top of this, our new client software supports
In a multi-controller setup, an array of stage/Galvo scanner sets can be controlled from a single human machine interface (HMI) for a massively parallel manufacturing setup.
Some application areas that can benefit from our new technologies include:
Flat panel display (FPD) processing
Organic light emitting diode (OLED) processing
Flexible printed circuit board (FPCB) processing
High density interconnected printed circuit board (HDI PCB) processing
Glass, sapphire and semiconductor processing
Fine metal micromachining
High speed hole drilling
3D printing
Laser welding and annealing
Laser patterning and ablation
Film cutting
About Polaris Motion
Polaris Motion specializes in motion control solutions for CNC machines in laser-based manufacturing, diamond tool cutting and grinding of optical surfaces and for specialized CNC machines in other high performance areas.
Information on multiple Galvo scanner control and our 32 page general catalog (5MB) may be downloaded here.
Polaris website.
Mile Erlic
Polaris Motion
www.pmdi.com
merlic@pmdi.com