Integrated Motion Control on Mercury™, our Ultra High-Throughput Motion Network
Polaris UniverseOne™ is a complete, integrated motion control and data acquisition system that offers endless possibilities. Easy to use and easy to set up, it offers high performance while offering a wide breadth of features. This motion control system can be applied to precision laser processing, computer numerical control (CNC), advanced robotic processes, and more.
Polaris UniverseOne™ is a unique system with integral components, including a motion controller, drives, I/O, client and server software connected together with Polaris Motion's patented, high speed motion control network Mercury™.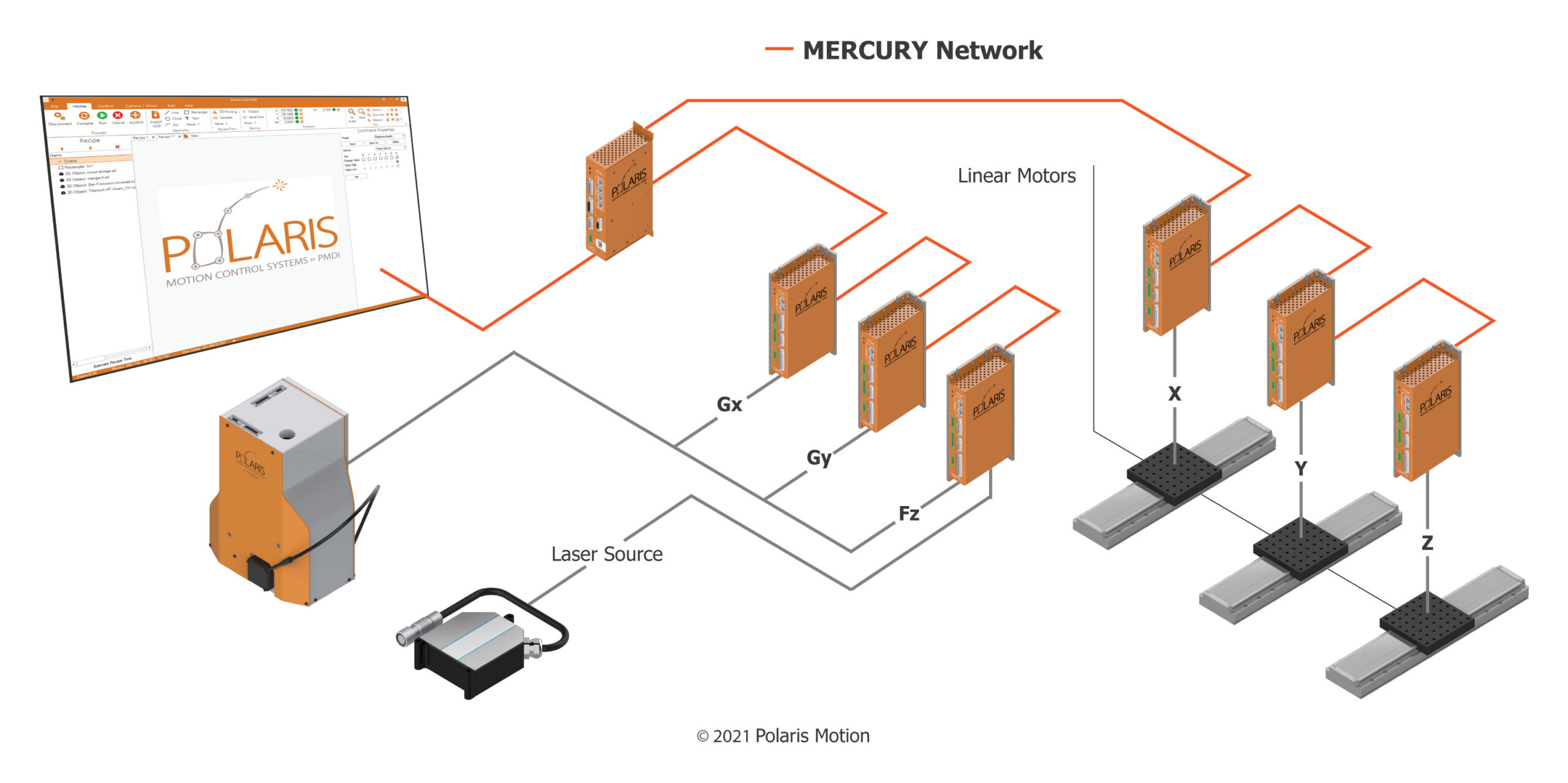 Hardware Modules
The electrical hardware consists of the motion controller, the motor drives, digital and analog I/O, interfaces for 3rd party drive systems and Galvoscanners. A variety of high-performance Polaris Galvoscanners are offered. The hardware is tied together with Mercury™, our patented Gbps motion control network. AC/DC power supplies are offered to customers for quick and easy commissioning.
Real-Time Motion Control Network
Mercury™ is Polaris Motion's patented, ultra high-speed motion control network. It's used to connect a Polaris UniverseOne™ controller with drives, I/O and other devices. A controller has 4 ports, each one supporting a daisy chain of up to 31 devices for a maximum 124 devices on a Mercury™ network.
Client Software
Polaris UniverseOne™ client software includes MotionTools™ for machine setup and Polaris CAD/CAM™ for generating part programs.
Server Software
Under the hood the server software includes the motion control engine with G-code, tools for writing process logic, and more.
Simulator Software
The Polaris UniverseOne™ simulator replicates the results of an actual system and machine. It has many uses for the machine designers, the sales team and the machine operators.