Do You Need to Develop a Precision 3D Printing Machine Quickly?
Reliably Handle Very Large STL Files – Print Flawlessly for Hours!
See us at IMTS Booth E4661, Chicago Illinois, Sept 12-17, 2016
By purchasing a Polaris CNC motion control system, you get all the high tech gear needed to develop your precision 3D printing machine quickly. Perfect for OEMs who need to take their machines to market yesterday.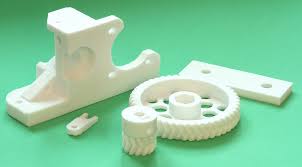 We supply the 3D printing software, controller, drives and Galvoscanner. Our customers provide the XYZ stage, laser and the process itself. Selective laser sintering (SLS) and selective laser melting (SLM) are supported for metals, ceramics and polymers.
Polaris Motion systems control the entire process. An STL file is imported and sliced; the volume is automatically filled; and the stage and Galvoscanners move with speed and accuracy to create the precision component. Large parts are easily created with our infinite field of view (IFOV) technology that coordinates stages and Galvoscanners.
By using a completely integrated solution, the operator workload is reduced to a minimum. There is no need to save intermediate information that is communicated from one system to another.
With a Polaris 3D printing solution, large STL models are processed flawlessly with extreme speed. Tens of millions of triangles are processed in minutes instead of hours. Complex internal structures, and highly detailed surfaces are handled easily. Long jobs taking dozens of hours or even days are reliably processed. With Polaris Motion a 3D printing machine can be developed in weeks instead of months.
Polaris CNC Architecture for CNC Laser Machines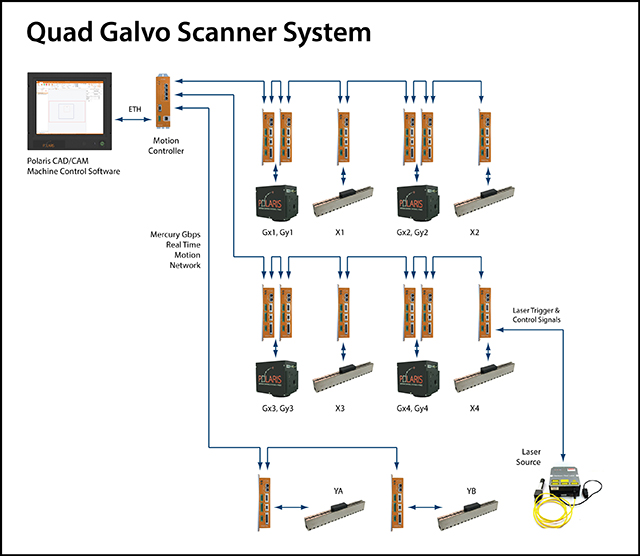 Polaris CAD/CAM
Polaris CAD/CAM is easy-to-use, off-the-shelf software that enables immediate control of your laser machine. You may design your own 2D and 3D parts, import designs from other programs, control a laser source, Galvoscanners, positioning stages, inspection cameras and other devices.
IMPORT 2D AND 3D CAD FILES
DXF, DWG, STL, Gerber and NC Drill files may be imported to Polaris CAD/CAM and used for laser machining. STL files can be sliced and hatched and used for 3D laser printing and 3D laser engraving. DXF, DWG and Gerber files can be hatched and offsets added for beam spot compensation. Use imported CAD files to prepare complex laser machining recipes.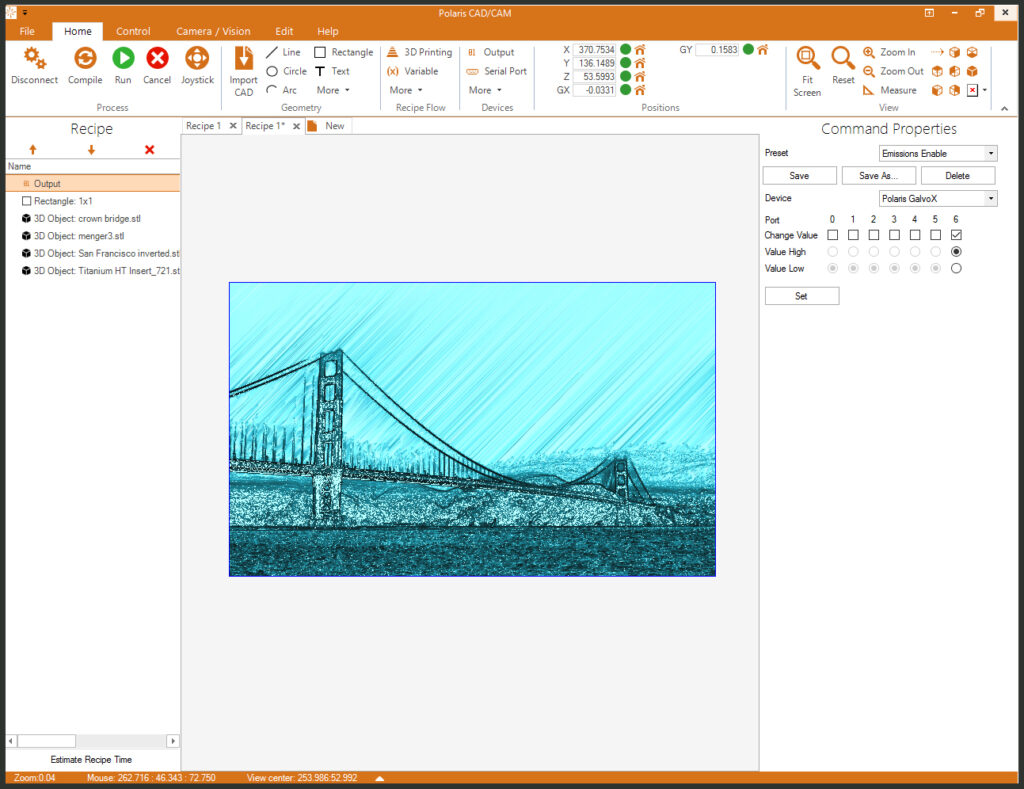 DRAW OBJECTS
Lines, circles, arcs and rectangles are easy to draw in Polaris CAD/CAM. You can draw them by hand and/or add precise parameters for size and position. You can draw polylines and polygon shapes with a special easy to use tool. All closed shapes can be hatched with one of the hatching types (lines, cross-hatching, dots, contours). Select motion speed and laser parameters for each shape, groups of shapes or the whole recipe.
CREATE COMPLEX RECIPES WITH FLOW TOOLS
All the parameters in the recipe such as size, position, motion and laser parameters can be entered as variables. It is an easy way to change and control parameters for the entire recipe. In addition, logical commands may be used to create complex, yet flexible and easy-to-control laser machining recipes. Use mathematical expressions, constants and formulas to create complex geometries.
Polaris Galvoscanner
Add a Polaris Galvoscanner with Polaris control system to your stage, laser source and machine vision system for a complete machine.
Polaris Galvoscanners employ digital encoder technology for consistency, repeatability and accuracy. Powerful tuning optimizes both dynamic and stationary performance for high quality ablating, marking, cutting, drilling and patterning.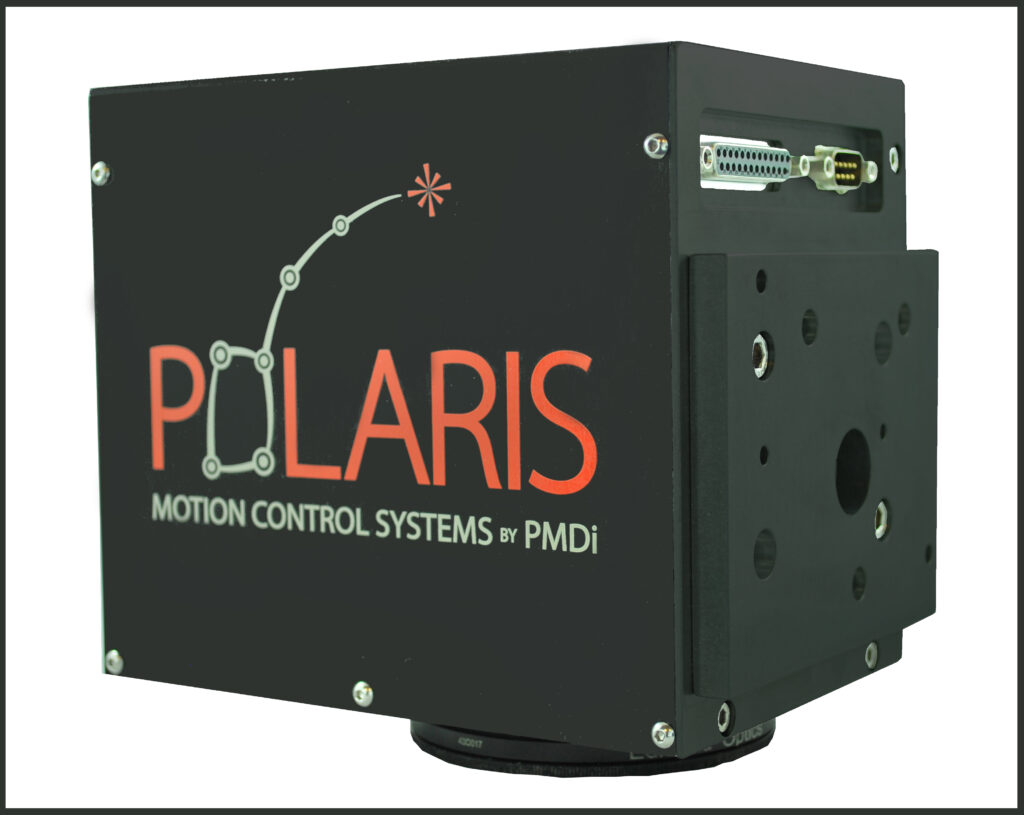 All of the advantages of Polaris control are brought forward including powerful path-planning, comprehensive and full-featured laser trigger logic, remote system diagnostics, and data acquisition. Data is easily analysed using digital oscilloscope and frequency based real-time graphing tools.
Advanced features include F-Theta lens barrel-pincushion distortion correction, infinite field of view (IFOV) and pulse-on-demand (POD) laser triggering.
Polaris Galvoscanners may be mounted to any type of stage from simple XYZ stages to robots including tripods, hexapods, and industrial robot arms. Polaris has native robot support with native management of joint and Cartesian coordinate systems.
A wide range of Galvoscanner mirrors and F-Theta lenses are available.
About Polaris Motion
Polaris Motion specializes in control solutions for CNC machines in laser-based manufacturing, diamond tool cutting and grinding of optical surfaces and for specialized CNC machines in other high performance areas.
Our catalog (2MB) may be downloaded here.
Best regards,
Mile Erlic
Polaris Motion
www.pmdi.com
merlic@pmdi.com