Freedom to Choose!
Infinite Field of View (IFOV) with Any Combination of Galvo Scanner & Stage
See us at Laser Taiwan 2018, Oct 17-19
Booth K401
IFOV with a Precision XYZ Stage and a SL2-100 Galvo Scanner
IFOV is a technique used for laser material processing where a fast Galvo scanner with its small field of view is mounted onto an XYZ stage that is slower but has a large stroke. The Galvo scanner and stage are moved in a coordinated, continuous and automatic fashion to extend the machine's effective field of view. Combing the advantages of a stage and Galvo scanner using IFOV technology makes it possible to laser machine large parts with great detail at high speeds.
IFOV has been available for a number of years as a technology, but only as part of a closed proprietary system that typically includes expensive stage, Galvo scanner and controller components. There is limited freedom to select alternate scanners and stage configurations for low, mid and high end applications.
Now there is a new approach. At Polaris Motion we've developed a method that allows our customers to buy a stage from one vendor, a Galvo scanner from another vendor and put the two together to create an effective IFOV solution. There are advantages to this new approach:
Choose a stage from your favorite supplier
Choose a Galvo scanner from your favorite supplier
Galvo scanner and stage selections based on actual performance requirements and budgets
Supports many stage motor types: Japanese style AC servo motors, BLDC Servo motors, stepper motors
Supports many Galvo scanner interfaces: XY2-100, SL2-100, direct connect to Galvo motor encoders, native Polaris Galvo scanners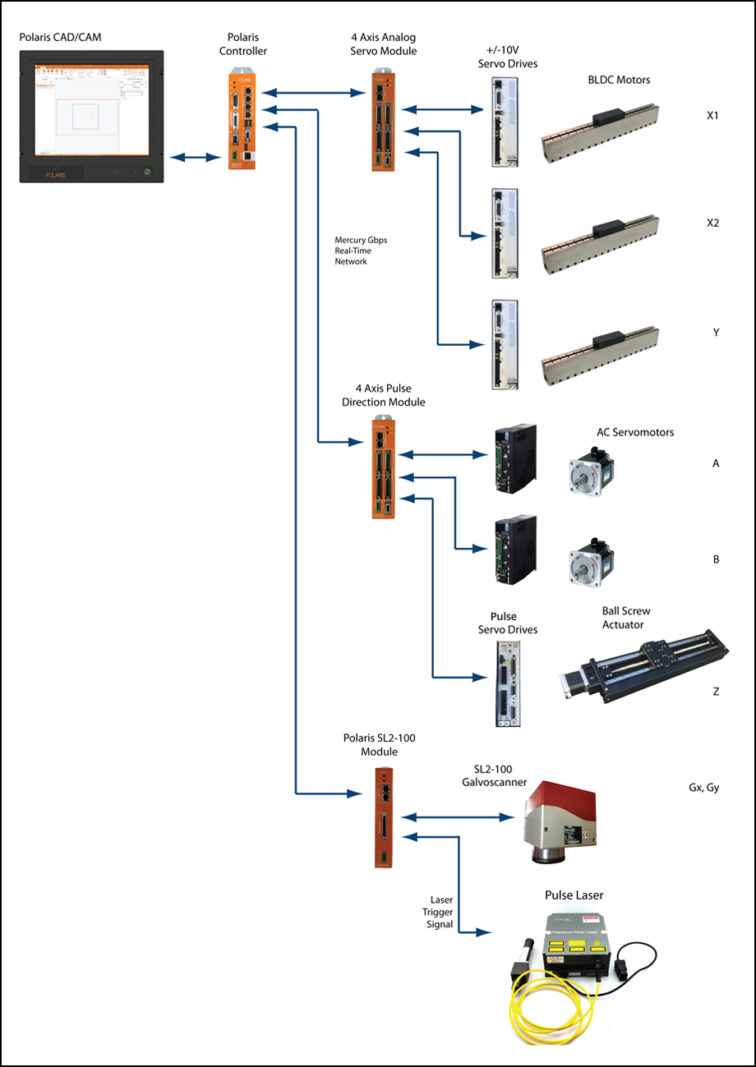 Building Your Machine
If you've already built your laser machine and you're happy with your Galvo scanner and beam delivery but would like to have a larger FOV to make bigger parts, you may consider Polaris' IFOV solution. By keeping your Galvo scanner the way it is, many risks go away. You're able to make the effective scan size larger by mounting your Galvo scanner onto an XYZ stage purchased from your favorite stage supplier.
If you're developing a laser material process from scratch, then you can select a Galvo scanner and stage that are optimal for your application's accuracy, throughput and budget requirements.
Many common industrial processes can now benefit from using IFOV. Use your favorite router-style XYZ stage and mount one or more Galvo scanners to make large parts having lots of detail with extreme speed. You will benefit from the advantage of a large stage combined with the speed and accuracy of a laser Galvo scanner.
Quick Setup
Polaris Motion's IFOV solution provides choice and flexibility and it's also easy to use. Setup is quick, and it's done only once during initial machine commissioning and tuning. After the machine has been tuned, any part can be made with no additional parameter adjustments. Simply import the part file, and the programmed intelligence of our system does the rest.
Some application areas that can benefit from our new technologies include:
3D printing
Fine metal micro machining
High speed hole drilling
Deep laser engraving
Laser welding and annealing
Laser patterning and ablation
Flat panel display (FPD) processing
Organic light emitting diode (OLED) processing
Flexible printed circuit board (FPCB) processing
High density interconnected printed circuit board (HDI PCB) processing
Glass, sapphire and semiconductor processing
About Polaris Motion
Polaris Motion specializes in motion control solutions for CNC machines in laser-based manufacturing, diamond tool cutting and grinding of optical surfaces and for specialized CNC machines in other high performance areas.
Information on multiple Galvo scanner control and our 32 page general catalog (5MB) may be downloaded here.
Polaris website.
Mile Erlic
Polaris Motion
www.pmdi.com
merlic@pmdi.com